Get Results Fast: 10% Sales Boost in 3 Months with JustEmail
Say Hello to More Sales and Higher Conversion Rates. Maximize Your Email Sales with Our Proven Email Automation Flows and Designs. All whilst you relax.

We're offering a free account analysis/audit of your email marketing campaigns + flows, along with the guarantee that if we don't boost your sales from email by at very least 10% within 3 months we'll refund you 100% for all work committed.* Risk free growth!

* Denotes; only applicable to The Works package. INCREASE YOUR STORE'S SALES OVER 200%!
We have a proven track record of growing e-commerce store's sales in the space of a few days. With our help you can do less and sell more... Some of our clients have even experienced over 1,000% sales increases from our email marketing enhancements. Don't lose sleep, we're here for your brand.
Results
From 1 man startups to online e-commerce behemoths. We deliver.
Speedcube
We transformed Speedcube's automated email marketing flows from low 3-4 figure returns to tens of thousands of dollars of extra sales each month. Achieving a sales growth rate over 1,000%!
Could your store be selling more? We can help!
Book a consultation call
Planet Nails
Planet Nails now hits high 6 figure sales from their automated email marketing messages and all key metrics such as open rate, click-through rate and conversion rate has sky rocketed.

Lets do the same for your brand!
Book a consultation call
Autotrader
Autotrader entrust Just Email to design, copywrite, build and send their B2C email communications on an ongoing basis. They know what's best for their clients.

Want amazing emails designed, built and written for you all whilst you relax?

Book a chat now.
Book a consultation call
Testimonials
"The automated email marketing flows Just Email setup for us has brought my store added sales of 5 figures and recovered many near lost conversions.""
Adam M., Co-Founder @ Eagle Peak
"Just Email's enhancements increased our weekly newsletter click through rates by more than 150% and open rates by 120% within 3 months."
Noah, Founder @ Pink Panda Candy
"Just Email are genuine and very detailed in their review and recommendations. Their enhancements has helped get us more sales!"
Sarah K., Director @ Eco Pain Patches
Trusted by brands worldwide
Our Partners

Feature Emails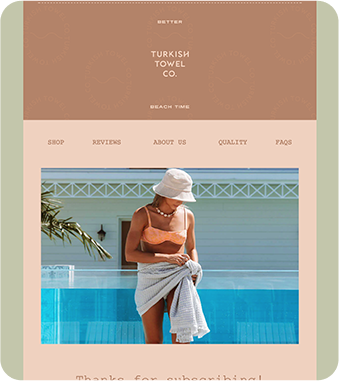 Simple! We suggest first scheduling a free consulation Zoom call with us, so we can go over your needs and cater a package specfically for you.
How long does it take to finish a service?
Our delivery times generally are around 72 hours after being granted access to your email platform, Monday-Friday. However some full service options may take a little longer, we'll discuss a deadline that works for you upon sign up. Need something quicker? Reach out in our chat and we'll do our best to help.
Can I review a service before its finished?
Of course! We will likely send you a review within 24-48. hours after being granted access to your email platform account, Monday - Friday.
What ecommerce platforms do you work with?
We can work with most e-commerce platforms, likely the one you're using right now… But we do have our favourites; Shopify, Big Commerce, Maropost CC. Please reach out in the chat to enquire if we're able to help.
What email platforms do you work with?
We're email platform agnostic but we spend a lot of time working with SmartrMail, Klaviyo and Omnisend. We can likely work with your current provider or even migrate you to one of our reliable favourites. Reach out in the chat if you'd like to discuss what's best for your business.
Do I need to supply my brand assets?
If you have them on hand, that would be fantastic. Generally we're able to pull most of what we need directly from your site, whether it be logos, brand colours and or style guides. Once you purchase one of our services you will receive an email requesting what's needed. : )
I've got a strong vision of what I want my emails to look like, can you create it?
Of course! Our design team will work hand-in-hand with you, your vision and your inspiration examples to create the perfect emails for your brand. We offer multiple free revisions and will endeavour to ensure you love your new designs.
I want more sales, how do I get them?
There's no one secret sauce to selling more from email and SMS, our experts will conduct a thorough audit/review of your brand and map out the pathway needed to your achieve goal. Our enhancements vary project to project which is why an individualised approach is so necessary. Book a free Zoom consultation to learn more about our proven magic. More sales awaits!
I already have my automated flows setup but they're not performing, what do I do?
This is a very common dilemma many e-commerce stores face so don't worry.... Help is on it's way! We will provide a free analysis on your current setup and offer tips, hints and our expertise - on how to get them popping and maximize sales. Simply book a Zoom consulation call today, you're in safe hands!